Simms Vertical Mesh Vest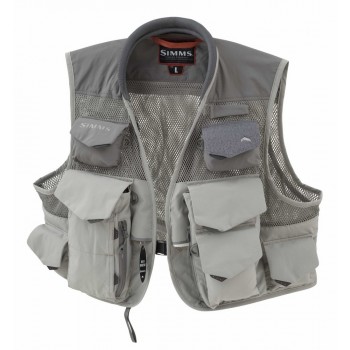 A comfortable fishing Simms vest that keeps you cool for long days on the water.
You only need a hand on the rod and a foot in the river to be happy, but strapping up with an arsenal of gear is a nice bonus. Simms' Vertical Mesh Vest is a cool, comfortable and spacious companion for when the action heats up and the fish are jumping. The vest is built with 19 pockets to fit all your tackle and more, and a third-hand rod holder that frees a hand when you need to release that wriggling two-footer. Lightweight, breathable shoulders and a padded collar adds plush comfort that keeps you cool on long days snapping casts across the water. The vest is finished in a water-resistant coating.
Cushioned shoulder construction
2 patented improved built‐in retractors, - 100% YKK zippers, YKK buckle closure & breathable padded collar
19 Pockets: 2 large bellowed vertical pockets with moveable divider & top/side access 2 side entry chest le
Related Products