Simms Headwaters Pro Vest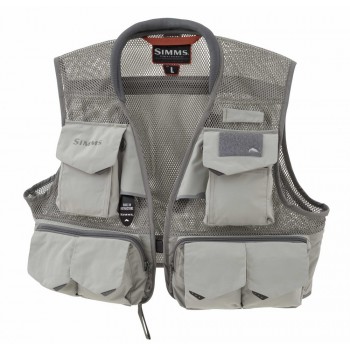 A lightweight fishing vest that supplies cool, lasting comfort during summer outings.
You only need a hand on the rod and a foot in the river to be happy, but loading with an arsenal of gear doesn't hurt. Simms' lightweight Headwaters™ Pro Mesh Vest is a cool, comfortable and spacious companion for the dog days when the sun beats down and the fish seek shade in the deep pools. The vest is built with 20 pockets to fit all your tackle and more, and a third-hand rod holder that frees a hand when you need to release that wriggling two-footer. Lightweight, breathable shoulders and a padded collar add plush comfort that keeps you cool as you snap casts through the summer heat. The vest is finished in a water-resistant coating.
20 Pockets: 4 chest pockets, 4 waist pockets, 2 large zippered horizontal waist pockets, 4 interior pockets, 2 interior large horizontal zippered pockets, 2 large interior vertical zippered pockets, 1 zippered back pocket, 1 side open back cargo poc
Related Products