Rio Powerflex Tippet - Guide Spool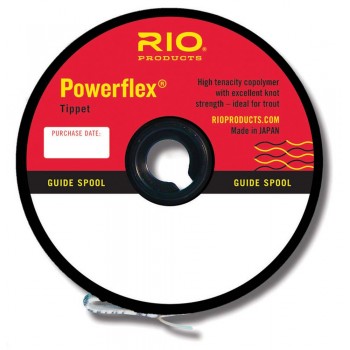 High tenacity copolymer with excellent knot strength – ideal for trout.
The RIO Powerflex Tippet Guide Spool is made from a a high tech co-polymer material, giving it excellent knot strength. A PTFE coating protects from abrasion, while giving it elongation (stretch) properties that average about 26%. Availabe from 7X to 0X, the Powerflex is perfect for all species. Its light grey color provides superb camouflage in the water.
| | | | | |
| --- | --- | --- | --- | --- |
| Total Length | Line Size | Leader Tippet Material | Test | Diameter |
| 110yd 100m | 7X | Nylon | 2.4lb 1.1kg | 0.004in 0.102mm |
| 110yd 100m | 6X | Nylon | 3.4lb 1.5kg | 0.005in 0.127mm |
| 110yd 100m | 5X | Nylon | 5.0lb 2.3kg | 0.006in 0.152mm |
| 110yd 100m | 4X | Nylon | 6.4lb 2.9kg | 0.007in 0.178mm |
| 110yd 100m | 3X | Nylon | 8.2lb 3.7kg | 0.008in 0.203mm |
| 110yd 100m | 2X | Nylon | 10lb 4.5kg | 0.009in 0.229mm |
| 75yd 68.6m | 1X | Nylon | 13lb 5.9kg | 0.010in 0.254mm |
| 75yd 68.6m | 0X | Nylon | 15lb 6.8kg | 0.011in 0.279mm |
Related Products