Semperfli Kapok Dry Fly Dubbing Full Selection Dispenser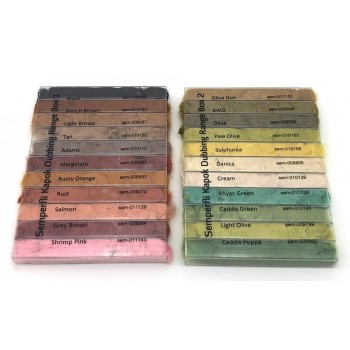 Semperfli Kapok is the ultimate in dubbing, very buoyant and half the thickness of superfine dubbing. A natural hollow fiber when dubbed into split thread it retains its buoyancy and will help your dry flies float better than any other natural dubbing.
Kapok is a moisture-resistant, quick-drying, resilient, and buoyant fibre and weighs only one-eighth as much as cotton. Kapok has been used in life jackets and life boats, supporting as much as 30 times its own weight in water. So when used in flies, it floats amazingly. Traditionally Kapok is very difficult to dye, however the team at Semperfli have been working with computer-based dying machinery which bulk dyes Kapok with repeatable colours every time. Semperfli's Pro Team helped define a wide range of very natural and earthy dubbing colors.
Individual Kapok fibers are on average 1.8cm/0.7", with diameters of 30 to 36 micrometers (a micrometer is about 0.00004 inch) making it finer than even the smallest superfine dubbing, indeed HALF the thickness of superfine dubbings.
The Dispenser contains the following colors: Black, March Brown, Light Brown, Tan, Adams, Marginata, Rusty Orange, Rust, Salmon, Grey Brown, Shrimp Pink, Olive Dun, BWO, Olive, Pale Olive, Sulphurea, Danica, Cream, Rhyac Green, Caddis Green, Light Olive, Caddis Puppa
Related Products