Rio Suppleflex Trout Leaders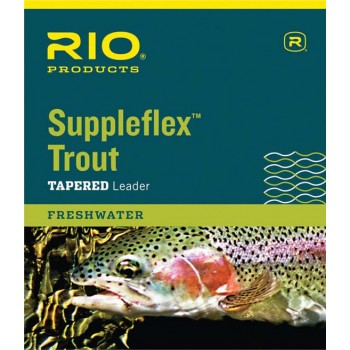 Suppleflex Trout leaders are made of a very soft, supple copolymer material that has excellent knot strength.
The supple nature of the material gives featherweight presentations and does not impede the natural movement of a fly in the current. These leaders are a perfect choice for the dry fly and soft hackle fly fisher.
Soft, supple material for perfect presentation
Hand tied perfection loop in the butt for quick rigging
Excellent knot and tensile strength
Ideal for:
Dry Flies
Soft Hackles
Emergers
Small Nymphs
| | | | | | |
| --- | --- | --- | --- | --- | --- |
| Total Length | X Size | Leader Tippet Material | Test | Tippet Diameter | Butt Diameter |
| 9ft 2.7m | 7X | Nylon | 2lb 0.9kg | 0.004in 0.102mm | 0.020in 0.508mm |
| 9ft 2.7m | 6X | Nylon | 3lb 1.3kg | 0.005in 0.127mm | 0.020in 0.508mm |
| 9ft 2.7m | 5X | Nylon | 4.7lb 2.1kg | 0.006in 0.152mm | 0.020in 0.508mm |
| 9ft 2.7m | 4X | Nylon | 6.1lb 2.7kg | 0.007in 0.178mm | 0.020in 0.508mm |
| 9ft 2.7m | 3X | Nylon | 8lb 3.8kg | 0.008in 0.203mm | 0.020in 0.508mm |
| 13.5ft 4.2m | 6X | Nylon | 3lb 1.3kg | 0.005in 0.127mm | 0.022in 0.559mm |
| 13.5ft 4.2m | 5X | Nylon | 4.7lb 2.1kg | 0.006in 0.152mm | 0.022in 0.559mm |
| 13.5ft 4.2m | 4X | Nylon | 6.1lb 2.7kg | 0.007in 0.178mm | 0.022in 0.559mm |
| 13.5ft 4.2m | 3X | Nylon | 8lb 3.8kg | 0.008in 0.203mm | 0.022in 0.559mm |
Related Products