Vision Ikon Zip 2.0 Waders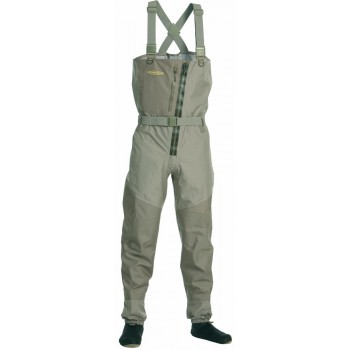 Vision Ikon Zip and Ikon Guiding waders, we can now state, that our upgraded Ikon 2.0 waders are a real bargain when you consider their track record and their features. The 3/6 layer construction in F3.5 fabric offers you the most durability and comfort while wading.
New E-Tape seam tape provides more elastic seams and thus prolongs the lifetime of these great waders. Stretchable belt, spacious front pocket with a zipper, built-in drying loops and specially designed feet and back take these waders to a new level of technology. Pick your favourite in standard, long, king or short, with or without a zip in front. Or then just stick with the guiding model, if you feel like hip deep is the deepest you want to wade!
Waterproof & breathable F3.5™ fabric
3 layer upper, 6 layer bottom
Waterproof Riri Storm 10 zipper
Matching colour stretchable wading belt with two belt loops
Adjustable, matching colour braces
Built in gravel guard with lace hooks
Inner pocket
Spacious front pocket with a zipper
Built in drying loops
High back design
Neoprene feet w left and right side design
New elastic E-Tape
Korean made
V1000. Ikon Zip. Standard #XS – #XXL / Short #LS – #XLS / Long #ML - #XLL / King #MK - #XLK
Related Products